Vendor- Random House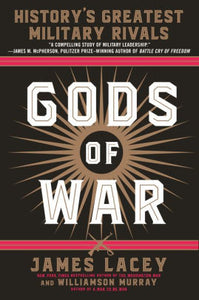 Gods of War: History's Greatest Military Rivals, by James Lacey
Random House
Regular price $32.00 Sale
Any meeting of genius may create sparks, but when military geniuses meet, their confrontations play out upon a vast panorama of states or civilizations at war, wielding the full destructive power of a mighty nation's armies. Gods of War is the first single-volume, in-depth examination of the most celebrated military rivalries of all time, and of the rare, world-changing battles in which these great commanders in history matched themselves against true equals.
 
From Caesar and Pompey deciding the fate of the Roman Republic, to Grant and Lee battling for a year during the American Civil War, to Rommel and Montgomery and Patton meeting in battle after battle as Hitler strove for European domination, these match-ups and their corresponding strategies are among the most memorable in history.
 
A thrilling look into both the generals' lives and their hardest-fought battles, Gods of War is also a thought-provoking analysis of the qualities that make a strong commander and a deep exploration of the historical context in which the contestants were required to wage war, all told with rousing narrative flair. And in a time when technology has made the potential costs of war even greater, it is a masterful look at how military strategy has evolved and what it will take for leaders to guide their nations to peace in the future.
Hardcover release: May 19, 2020