Vendor- Vintage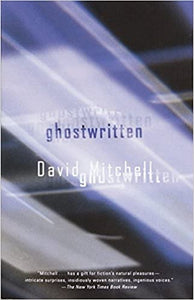 Ghost Written, by David Mitchell
Vintage
Regular price $16.00 $8.98 Sale
By the New York Times bestselling author of The Bone Clocks and Cloud Atlas

"[David Mitchell] has a gift for fiction's natural pleasures—intricate surprises, insidiously woven narratives, ingenious voices."—The New York Times Book Review
 
"Elegantly composed, gracefully plotted and full of humor."—Los Angeles Times
 
"Unlike so many of the chroniclers of the twenty-first-century pastiche—an industry dominated by ad men and feature-writers, not novelists—Mitchell has set out to craft actual characters, not archetypes. The result is a dazzling piece of work."—The Washington Post
 
"Mitchell deftly sketches each character to such a compelling extent that you become totally immersed. . . . His nine characters and their random but fateful interactions provide a playful, suspenseful foray into our ever-shrinking world."—Entertainment Weekly

A gallery attendant at the Hermitage. A young jazz buff in Tokyo. A crooked British lawyer in Hong Kong. A disc jockey in Manhattan. A physicist in Ireland. An elderly woman running a tea shack in rural China. A cult-controlled terrorist in Okinawa. A musician in London. A transmigrating spirit in Mongolia. What is the common thread of coincidence or destiny that connects the lives of these nine souls in nine far-flung countries, stretching across the globe from east to west? What pattern do their linked fates form through time and space?

A writer of pyrotechnic virtuosity and profound compassion, a mind to which nothing human is alien, David Mitchell spins genres, cultures, and ideas like gossamer threads around and through these nine linked stories. Many forces bind these lives, but at root all involve the same universal longing for connection and transcendence, an axis of commonality that leads in two directions—to creation and to destruction. In the end, as lives converge with a fearful symmetry, Ghostwritten comes full circle, to a point at which a familiar idea—that whether the planet is vast or small is merely a matter of perspective—strikes home with the force of a new revelation. It marks the debut of a writer of astonishing gifts.
From the book flap:
David Mitchell's electrifying debut novel takes readers on a mesmerizing trek across a world of human experience through a series of ingeniously linked narratives.
Oblivious to the bizarre ways in which their lives intersect, nine characters-a terrorist in Okinawa, a record-shop clerk in Tokyo, a money-laundering British financier in Hong Kong, an old woman running a tea shack in China, a transmigrating "noncorpum" entity seeking a human host in Mongolia, a gallery-attendant-cum-art-thief in Petersburg, a drummer in London, a female physicist in Ireland, and a radio deejay in New York-hurtle toward a shared destiny of astonishing impact. Like the book's one non-human narrator, Mitchell latches onto his host characters and invades their lives with parasitic precision, making Ghostwritten a sprawling and brilliant literary relief map of the modern world.