Vendor- Yu, An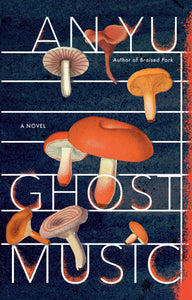 Ghost Music
Yu, An
Regular price $26.00 Sale
For three years, Song Yan has filled the emptiness of her Beijing apartment with the tentative notes of her young piano students. She gave up on her own career as a concert pianist many years ago, but her husband Bowen, an executive at a car company, has long rebuffed her pleas to have a child. He resists even when his mother arrives from the southwestern Chinese region of Yunnan and begins her own campaign for a grandchild. As tension in the household rises, it becomes harder for Song Yan to keep her usual placid demeanor, especially since she is troubled by dreams of a doorless room she can't escape, populated only by a strange orange mushroom.
When a parcel of mushrooms native to her mother-in-law's province is delivered seemingly by mistake, Song Yan sees an opportunity to bond with her, and as the packages continue to arrive every week, the women stir-fry and grill the mushrooms, adding them to soups and noodles. When a letter arrives in the mail from the sender of the mushrooms, Song Yan's world begins to tilt further into the surreal. Summoned to an uncanny, seemingly ageless house hidden in a hutong that sits in the middle of the congested city, she finds Bai Yu, a once world-famous pianist who disappeared ten years ago.
A gorgeous and atmospheric novel of art and expression, grief and survival, memory and self-discovery, Ghost Music animates contemporary Beijing through the eyes of a lonely yet hopeful young woman and gives vivid color and texture to the promise of new beginnings.
Hardcover, Jan 10th 2023