Vendor- Givens, Jarvis R.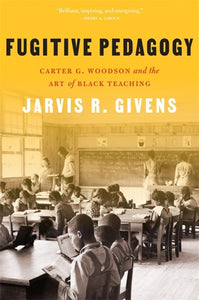 Fugitive Pedagogy: Carter G. Woodson and the Art of Black Teaching
Givens, Jarvis R.
Regular price $21.95 Sale
Black education was subversive from its inception. African Americans pursued education through clandestine means, often in defiance of law and custom, even under threat of violence. They developed what Jarvis Givens calls a tradition of "fugitive pedagogy"―a theory and practice of Black education epitomized by Carter G. Woodson―groundbreaking historian, founder of Black History Month, and legendary educator under Jim Crow.

Givens shows that Woodson succeeded because of the world of Black teachers to which he belonged. Fugitive Pedagogy chronicles his ambitious efforts to fight what he called the "mis-education of the Negro" by helping teachers and students to see themselves and their mission as set apart from an anti-Black world. Teachers, students, families, and communities worked together, using Woodson's materials and methods as they fought for power in schools. Forged in slavery and honed under Jim Crow, the vision of the Black experience Woodson articulated so passionately and effectively remains essential for teachers and students today.
paperback, Jan 10th 2023