Vendor- Penguin Classics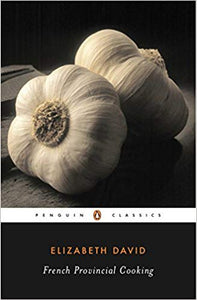 French Provincial Cooking, by Elizabeth David. Intro by Julia Child
Penguin Classics
Regular price $18.00 Sale
First published in 1962, Elizabeth David's culinary odyssey through provincial France forever changed the way we think about food. With elegant simplicity, David explores the authentic flavors and textures of time-honored cuisines from such provinces as Alsace, Provence, Brittany, and the Savoie. Full of cooking ideas and recipes, French Provincial Cooking is a scholarly yet straightforward celebration of the traditions of French regional cooking.

France and Italy are especially famous for wine and food. David studies and analyzes cooking the way a scholar analyzes literature, and, as a result, her titles are far more than just cookbooks. Along with the recipes, of which there are many, she explains at length the histories of the dishes and offers splendid advice on serving wine with the meals.
Elizabeth David (1913–1992) published eight books during her lifetime, from the evocative Book of Mediterranean Food in ration-bound 1950 to the masterly English Bread and Yeast Cookery in 1977. Her books are acclaimed not only for their recipes but also for their literary depth. French Provincial Cooking and Italian Food were reissued as Penguin Twentieth-Century Classics in 1999.
Penguin Classics. Released February 1, 1999
First published 1962