Vendor- Derrick, Alyson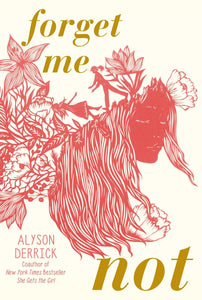 Forget me Not
Derrick, Alyson
Regular price $19.99 Sale
What would you do if you forgot the love of your life ever even existed?

Stevie and Nora had a love. A secret, epic, once-in-a-lifetime kind of love. They also had a plan: to leave their small, ultra-conservative town and families behind after graduation and move to California, where they could finally stop hiding that love.

But then Stevie has a terrible fall. And when she comes to, she can remember nothing of the last two years—not California, not coming to terms with her sexuality, not even Nora. Suddenly, Stevie finds herself in a life she doesn't quite understand, one where she's estranged from her parents, drifting away from her friends, lying about the hours she works, dating a boy she can't remember crushing on, and headed towards a future that isn't at all what her fifteen-year-old self would have envisioned.

And Nora finds herself…forgotten. Can the two beat the odds a second time and find their way back together when "together" itself is just a lost memory?
Hardcover, Apr 4th 2023