Vendor- Collette, Sandrine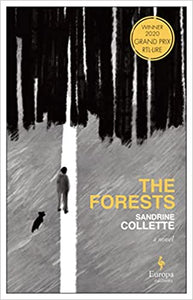 Forests, The
Collette, Sandrine
Regular price $18.00 Sale
Nobody wanted Corentin. Not his father, who flees as soon he can, nor the women in the village, only preoccupied with gossip, nor especially his mother, who dreams of getting rid of him. Dragged from home to home, his childhood feels like a sad, aimless pilgrimage. Until the day his mother abandons him with an old woman, Augustine. That's when life begins again for him, deep into the Valley of the Forests, the remote region where the woman who becomes his adoptive grandmother lives.
Having moved to the city to pursue his studies, Corentin fully immerses himself in the dazzling pleasures and distractions of urban life. Around him, though, the world is on fire. Temperatures continue to rise, causing a permanent draught. The rivers of Corentin's childhood have long dried up; the trees shed their leaves in June. A terrible catastrophe is brewing.
The night when the worst happens, Corentin miraculously survives, hidden deep in the city's catacombs. When he reemerges, he finds a devastated landscape, completely devoid of life. Human, tree, or beast: nothing is left. But Corentin doesn't give up and, only armed with hope, sets off on a journey to find old Augustine.
Paperback, Mar 8th