Vendor- Chong, Jinwoo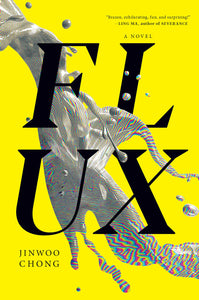 Flux
Chong, Jinwoo
Regular price $28.99 Sale
A blazingly original and stylish debut novel about a young man whose reality unravels when he suspects his mysterious employers have inadvertently discovered time travel—and are using it to cover up a string of violent crimes . . .
 
Four days before Christmas, 8-year-old Bo loses his mother in a tragic accident, 28-year-old Brandon loses his job after a hostile takeover of his big-media employer, and 48-year-old Blue, a key witness in a criminal trial against an infamous now-defunct tech startup, struggles to reconnect with his family.
 
So begins Jinwoo Chong's dazzling, time-bending debut that blends elements of neo-noir and speculative fiction as the lives of Bo, Brandon, and Blue begin to intersect, uncovering a vast network of secrets and an experimental technology that threatens to upend life itself. Intertwined with them is the saga of an iconic '80s detective show, Raider, whose star actor has imploded spectacularly after revelations of long-term, concealed abuse.
 
Flux is a haunting and sometimes shocking exploration of the cyclical nature of grief, of moving past trauma, and of the pervasive nature of whiteness within the development of Asian identity in America.
Hardcover, March 21st 2023