Vendor- Moss, N. West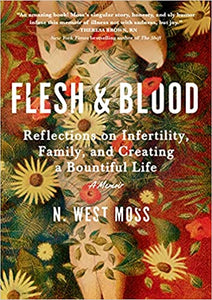 Flesh and Blood: Reflections on Infertility, Family, and Creating a Bountiful Life
Moss, N. West
Regular price $25.95 Sale

"I drive and say to myself, if I am dying, if this is how I die, then this is how I die." When N. West Moss finds herself bleeding uncontrollably in the middle of a writing class, she drives herself to the hospital. Doctors are baffled, but eventually a diagnosis—hemangioma—is determined and a hysterectomy is scheduled. We follow Moss through her surgery, complications, and recovery as her thoughts turn to her previous struggles with infertility, to grief and healing, to what it means to leave a legacy.

Moss's wise, droll voice and limitless curiosity lift this beautiful memoir beyond any narrow focus. Among her interests: yellow fever, good cocktails, the history of New Orleans, and, always, the natural world, including the praying mantis in her sunroom whom she names Claude. And we learn about the inspiring women in Moss's family—her mother, her grandmother, and her great-grandmother—as she sorts out her feeling that this line will end with her. But Moss discovers that there are other ways besides having children to make a mark, and that grief is not a stopping place but a companion that travels along with us through everything, even happiness.

With public figures like Chrissy Teigen and Meghan, Duchess of Sussex, speaking out about infertility recently, women are eager for voices that acknowledge their struggles. Fans of Lena Dunham, Leslie Jamison, and Jenny Lawson—along with readers of medical memoirs like When Breath Becomes Air and The Bright Hour—will find that connection in Moss's Flesh & Blood.
Hardcover, Oct 12th 2021