Vendor- Wilder, K. C.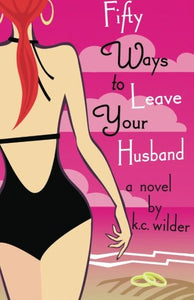 Fifty Ways to Leave Your Husband
Wilder, K. C.
Regular price $10.99 $10.99 Sale
Eve Wolcott has it all: a handsome, successful husband from a moneyed old New England family, two bright young sons enrolled in a premier prep school, stately homes sprinkled along the East Coast. Except her husband is a serial philanderer, her mother-in-law is the devil in Lily Pulitzer, her sons are struggling, and it takes a cocktail of antidepressants to get Eve through her day. When a chance encounter with a hunky stranger coincides with Eve's discovery of her husband's latest betrayal, she throws caution (and at least one perfectly good pair of panties) to the wind. Is she having a crisis inspired by her impending fortieth birthday, or is she just ready to take a long, hard look at her life and shake things up a bit? As Eve embarks on a steamy adventure with perpetual playboy Finn, she slowly discovers how much of herself she's sacrificed over the years - and how much more she may have to sacrifice yet to bring passion and meaning back into her life. Set against the rich backdrop of coastal Rhode Island, Fifty Ways to Leave Your Husband is a funny, sexy tale you won't soon forget.
Released August 7, 2013