Vendor- Proulx, Annie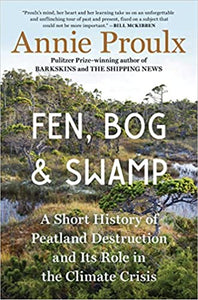 Fen, Bog and Swamp: A Short History of Peatland Destruction and Its Role in the Climate Crisis
Proulx, Annie
Regular price $26.99 Sale

A lifelong environmentalist, Annie Proulx brings her wide-ranging research and scholarship to the subject of wetlands and the vitally important yet little understood role they play in preserving the environment—by storing the carbon emissions that greatly contribute to climate change. Fens, bogs, swamps, and marine estuaries are the earth's most desirable and dependable resources, and in four stunning parts, Proulx documents the long-misunderstood role of these wetlands in saving the planet.

Taking us on a fascinating journey through history, Proulx shows us the fens of 16th-century England to Canada's Hudson Bay lowlands, Russia's Great Vasyugan Mire, America's Okeefenokee National Wildlife Refuge, and the 19th-century explorers who began the destruction of the Amazon rainforest. Along the way, she writes of the diseases spawned in the wetlands—the Ague, malaria, Marsh Fever—and the surprisingly significant role of peat in industrialization.

A sobering look at the degradation of wetlands over centuries and the serious ecological consequences, this is a stunningly important work and a rousing call to action by a writer whose passionate devotion to understanding and preserving the environment is on full and glorious display.
Hardcover, Sept 27th 2022