Vendor- Vadnais, Christiane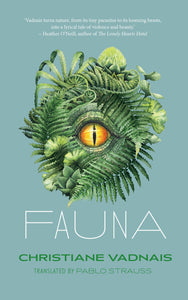 Fauna
Vadnais, Christiane
Regular price $15.95 $15.95 Sale
In a near-future world ravaged by climate change, who will win in the struggle between humanity and nature?
A thick fog rolls in over Shivering Heights. The river overflows, the sky is streaked with toxic green, parasites proliferate in torrential rains and once safely classified species – humans included – are evolving and behaving in unprecedented ways. Against this poetically hostile backdrop, a biologist, Laura, fights to understand the nature and scope of the changes transforming her own body and the world around her.
Ten lush and bracing linked climate fictions depict a world gorgeous and terrifying in its likeness to our own.
Fauna, Christiane Vadnais's first work of fiction, won the Horizons Imaginaires speculative fiction award, the City of Quebec book award, and was named one of 2018's best books by Radio-Canada.
Released September 22, 2020