Vendor- Dorn, Anna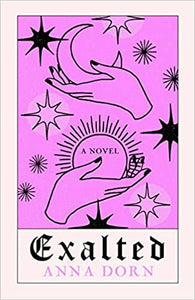 Exalted
Dorn, Anna
Regular price $27.00 Sale
Emily Forrest runs Exalted, the hottest astrology account on Instagram, from her studio apartment in Los Angeles. Burned out on meme-making and listicles, Emily's passion for astrology is waning despite her gift for deciphering the signs, until she comes across a birth-chart that could potentially change her mind. Beau Rubidoux's planets are aligned, each paired with its optimum sign—his chart is exalted. She decides that Beau, a well-connected photographer in Echo Park, could potentially be the love of her life and help her fulfill her true destiny: to be a star.   
Meanwhile in Riverside, Dawn Webster has been dumped once again. At 48, she is forced to return to the same restaurant where she started waiting tables at 18. With no girlfriend, no career, and her only son gone to Hollywood, the once-vivacious Dawn is aimless and alone. Persona non-grata at the local gay bar, she guzzles cheap champagne and checks Exalted to feel seen. She is a fiery Leo, and one day she will get her due.
Alternating between Emily and Dawn's very different points of view, Exalted is a deliciously dark novel that explores desire, the projection of our need for love, and what we're really searching for when we keep scrolling. Anna Dorn's signature wit and biting social commentary takes readers across Southern California until Emily and Dawn's shocking connection is finally revealed.