Vendor- Oyehaug, Gunnhild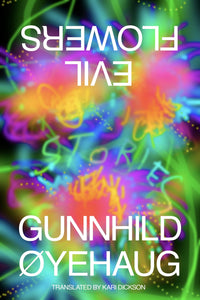 Evil Flowers
Oyehaug, Gunnhild
Regular price $25.00 Sale
In Evil Flowers, a precise but madcap collection of short stories, Gunnhild Øyehaug extracts the bizarre from the mundane and reveals the strange, startling brilliance of everyday life.

Across twenty-five stories, Øyehaug renovates the form again and again, confirming Lydia Davis's observation that her every story is "a formal surprise, smart and droll." The stories converse with, contradict, and expand on one another; birds, hagfish, and wild beasts reappear, gnawing at the fringes. A section of a woman's brain slips into the toilet bowl, removing her ability to remember or recognize types of birds (particularly problematic because she is an ornithologist). Medicinal leeches ingest information from fiberoptic cables, and a new museum sinks into the ground.

Inspired by Charles Baudelaire, a dreamer and romantic in the era of realism, Øyehaug revolts against the ordinary, reaching instead for the wonder to be found in fantasy and absurdity. Brimming with wit, ingenuity, and irrepressible joy, these stories mark another triumph from a dazzling international writer.
Hardcover, Feb 14th 2023