Vendor- Farrar, Straus and Giroux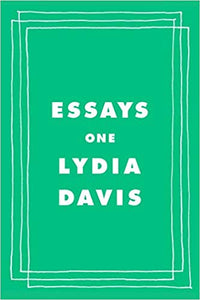 Essays: One, by Lydia Davis
Farrar, Straus and Giroux
Regular price $30.00 Sale
A selection of essays on writing and reading by the master short-fiction writer Lydia Davis

Lydia Davis is a writer whose originality, influence, and wit are beyond compare. Jonathan Franzen has called her "a magician of self-consciousness," while Rick Moody hails her as "the best prose stylist in America." And for Claire Messud, "Davis's signal gift is to make us feel alive."
Best known for her masterful short stories and translations, Davis's gifts extend equally to her nonfiction. In Essays One, Davis has, for the first time, gathered a selection of essays, commentaries, and lectures composed over the past five decades.
In this first of two volumes, her subjects range from her earliest influences to her favorite short stories, from John Ashbery's translation of Rimbaud to Alan Cote's painting, and from the Shepherd's Psalm to early tourist photographs. On display is the development and range of one of the sharpest, most capacious minds writing today.
"Davis, an innovative fiction writer, is also an erudite essayist, critic and translator, with an ever-questing mind evident in these 33 essays . . . An essential literary companion." ―Jane Ciabattari, BBC
"Davis is putting her more than 30 years of experience into a selection of essays on the craft of reading and writing; the first of the two-volume set comes out this fall. Don't expect run-of-the-mill advice like "show don't tell" here, though; Davis has made a career out of breaking the established rules . . ." ―The Week
"She's so deeply cerebral it's perhaps counterintuitive that Davis is a companionable presence. She's erudite, with catholic interests, and earnest but not humorless. This is the kind of book you could read alone in a restaurant and feel you're lost in a stimulating conversation . . . I covet her ability to write and to commit to the work at hand. I spent two weeks with Essays One; Davis would probably have spent much longer with a book she meant to review. Alas, we can't all be Lydia Davis, but thank god we have her." ―Rumaan Alam, The New Republic
"The first in a planned two-volume collection of the nonfiction of short story author Davis (Samuel Johnson Is Indignant) proves a cornucopia of illuminating and timeless observations on literature, art, and the craft of writing . . . Fans of Davis's unfailingly clever work should add this volume to their collection, and creative writers of every genre should take the opportunity to learn from a legend." ―Publishers Weekly (Starred Review)
Lydia Davis is the author of The End of the Story: A Novel and several story collections, including Varieties of Disturbance, a finalist for the 2007 National Book Award and most recently, Can't and Won't. She is also the acclaimed translator of Swann's Way and Madame Bovary, both of which were awarded the French-American Foundation Translation Prize. The Collected Stories of Lydia Davis was described by James Wood in The New Yorker as a "grand cumulative achievement." She is the winner of the 2013 Man Booker International Prize.
Released November 12, 2019