Vendor- Little, Brown and Company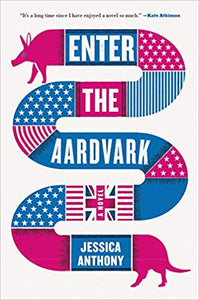 Enter the Aardvark, by Jessica Anthony
Little, Brown and Company
Regular price $26.00 Sale
It's early one morning on a hot day in August, and millennial congressman Alexander Paine Wilson (R), planning his first reelection campaign and in deep denial about his sexuality, receives a mysterious, over-sized FedEx delivery on his front stoop. Inside is a gigantic taxidermied aardvark.

This outrageous, edge-of-your-seat novel hurtles between contemporary Washington, D.C., where Wilson tries to get rid of the unsightly beast before it destroys his career, and Victorian England--where we meet Titus Downing, the taxidermist who stuffed the aardvark, and Richard Ostlet, the naturalist who hunted her. Our present world, we begin to see, has been shaped in profound and disturbing ways by the secret that binds these men.

At once a ghost story, a love story, and a stunningly prescient political satire, Enter the Aardvark confronts the consequences of repressed male love meeting oppressive male power, and is a searing condemnation of our current American blindness. It is also that rarest of creatures: a work of art so utterly original and masterfully built that it seems to have spring fully formed from its visionary maker's head.
Hardcover March 24, 2020