Vendor- Wolff, Alexander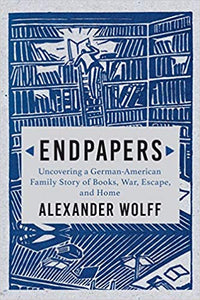 Endpapers: A Family Story of Books, War, Escape, and Home
Wolff, Alexander
Regular price $28.00 Sale
A literary gem researched over a year the author spent living in Berlin, 
Endpapers
 excavates the extraordinary histories of the author's grandfather and father: the renowned publisher Kurt Wolff, dubbed "perhaps the twentieth century's most discriminating publisher" by the New York Times Book Review, and his son Niko, who fought in the Wehrmacht during World War II before coming to America.
Kurt Wolff was born in Bonn into a highly cultured German-Jewish family, whose ancestors included converts to Christianity, among them Baron Moritz von Haber, whose desire to demand satisfaction in a duel sparked off bloody antisemitic riots. Always bookish, Kurt became a publisher at twenty-three, setting up his own firm and publishing Franz Kafka, Joseph Roth, Karl Kraus, and many other authors whose books would soon be burned by the Nazis. Fleeing Germany in 1933, a day after the Reichstag fire, Kurt and his second wife, Helen, sought refuge in France, Italy, and ultimately New York, where in a small Greenwich Village apartment they founded Pantheon Books. Pantheon would soon take its own place in literary history with the publication of Nobel laureate Boris Pasternak's novel Doctor Zhivago, and as the conduit that brought major European works to the States. But Kurt's taciturn son Niko, offspring of his first marriage to Elisabeth Merck, was left behind in Germany, where despite his Jewish heritage he served the Nazis on two fronts. As Alexander Wolff visits dusty archives and meets distant relatives, he discovers secrets that never made it to the land of fresh starts, including the connection between Hitler and the family pharmaceutical firm E. Merck, and the story of a half-brother Niko never knew.
With surprising revelations from never-before-published family letters, diaries, and photographs, Endpapers is a moving and intimate family story, weaving a literary tapestry of the perils, triumphs, and secrets of history and exile.
Hardcover 3/2/21