Vendor- Cappelletto, Chiara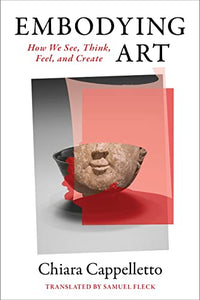 Embodying Art: How we See, Think, Feel, and Create
Cappelletto, Chiara
Regular price $30.00 Sale
In recent years, neuroscientists have made ambitious attempts to explain artistic processes and spectatorship through brain imaging techniques. But can brain science really unravel the workings of art? Is the brain in fact the site of aesthetic appreciation?

Embodying Art recasts the relationship between neuroscience and aesthetics and calls for shifting the focus of inquiry from the brain itself to personal experience in the world. Chiara Cappelletto presents close readings of neuroscientific and philosophical scholarship as well as artworks and art criticism, identifying their epistemological premises and theoretical consequences. She critiques neuroaesthetic reductionism and its assumptions about a mind/body divide, arguing that the brain is embodied and embedded in affective, cultural, and historical milieus.

Cappelletto considers understandings of the human brain encompassing scientific, philosophical, and visual and performance arts discourses. She examines how neuroaesthetics has constructed its field of study, exploring the ways digital renderings and scientific data have been used to produce the brain as a cultural and visual object. Tracing the intertwined histories of brain science and aesthetic theory, Embodying Art offers a strikingly original and profound philosophical account of the human brain as a living artifact.
Paperback, Nov 8th 2022