Vendor- Abreu, Andrea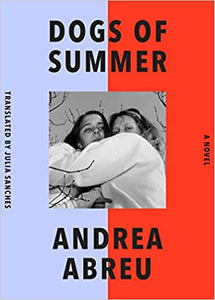 Dogs of Summer
Abreu, Andrea
Regular price $23.00 Sale
High near the volcano of northern Tenerife, an endless ceiling of cloud cover traps the working class in an abject, oppressive heat. Far away from the island's posh resorts, two girls dream of hitching a ride down to the beach and escaping their horizonless town. 
 
It's summer, 2005, and our ten-year-old narrator is consumed by thoughts of her best friend Isora. Isora is rude and bossy, but she's also vivacious and brave; grownups prefer her, and boys do, too. That's why sometimes she gets jealous of Isora, who already has hair on her vagina and soft, round breasts. But she's definitely not jealous that Isora's mother is dead, nor that Isora's fat, foul-mouthed grandmother has her on a diet, so that she is constantly sticking her fingers down her throat. Besides, she would do anything for Isora: gorge herself on cakes when her friend wants to watch, follow her to the bathroom when she takes a shit, log into chat rooms to swap dirty instant messages with strangers. But increasingly, our narrator finds it hard to keep up with Isora, who seems to be growing up at full tilt without her—and as her submissiveness veers into a painful sexual awakening, desire grows indistinguishable from intimate violence.
 
Braiding prose poetry with bachata lyrics and the gritty humor of Canary dialect, Dogs of Summer is a story of exquisite yearning, a brutal picture of girlhood and a love song written for the vital community it portrays.
Hardcover, Aug 2nd 2022