Vendor- Mariner Books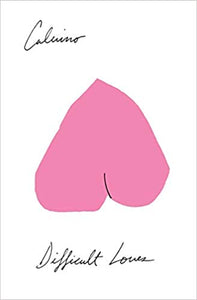 Difficult Loves, by Italo Calvino
Mariner Books
Regular price $15.99 Sale
Intricate interior lives are brilliantly explored in these short stories, now presented in one definitive collection as Calvino intended them
In 
Difficult Loves,
 Italy's master storyteller weaves tales in which cherished deceptions and illusions of love—including self-love—are swept away in magical instants of recognition. A soldier is reduced to quivering fear by the presence of a full-figured woman in his train compartment; a young clerk leaves a lady's bed at dawn; a young woman is isolated from bathers on a beach by the loss of her bikini bottom. Each of them discovers hidden truths beneath the surface of everyday life. 
 
This is the first edition in English to present the collection as Calvino originally envisioned it, and includes two stories newly translated by Ann Goldstein.
ITALO CALVINO (1923–1985) attained worldwide renown as one of the twentieth century's greatest storytellers. Born in Cuba, he was raised in San Remo, Italy, and later lived in Turin, Paris, Rome, and elsewhere. Among his many works are
Invisible Cities
,
If on a winter
'
s night a traveler
,
The Baron in the Trees
, and other novels, as well as numerous collections of fiction, folktales, criticism, and essays. His works have been translated into dozens of languages.
ANN GOLDSTEIN is an editor at
The New Yorker
. She has translated the works of many of Italy's most prominent writers, including Elena Ferrante, Primo Levi, Giacomo Leopardi, Aldo Buzzi, and Alessandro Piperno.