Vendor- Penguin Classics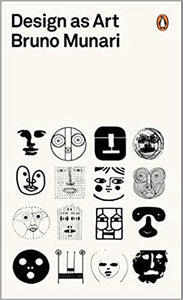 Design as Art
Penguin Classics
Regular price $16.00 Sale
An illustrated journey into the artistic possibilities of modern design, by the enfant terrible of Italian art and design for most of the twentieth century

Bruno Munari was among the most inspirational designers of all time, described by Picasso as "the new Leonardo." Munari insisted that design be beautiful, functional and accessible, and this enlightening and highly entertaining book sets out his ideas about visual, graphic and industrial design and the role it plays in the objects we use everyday. Lamps, road signs, typography, posters, children's books, advertising, cars and chairs—these are just some of the subjects to which he turns his illuminating gaze.
"One of the most influential designers of the twentieth century . . . Munari has encouraged people to go beyond formal conventions and stereotypes by showing them how to widen their perceptual awareness." —International Herald Tribune
Bruno Munari (1907–1998) was an Italian artist and designer who contributed in many fields of both visual (paint, sculpture, film, industrial design, graphics) and non-visual arts (literature, poetry).
October 8, 2019