Vendor- Gerstenblatt, Julie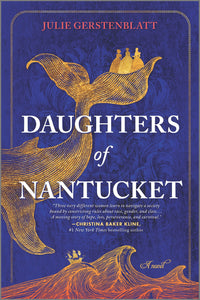 Daughters of Nantucket
Gerstenblatt, Julie
Regular price $19.99 Sale

Nantucket in 1846 is an island set apart not just by its geography but by its unique circumstances. With their menfolk away at sea, often for years at a time, women here know a rare independence—and the challenges that go with it.

Eliza Macy is struggling to conceal her financial trouble as she waits for her whaling captain husband to return from a voyage. In desperation, she turns against her progressive ideals and targets Meg Wright, a pregnant free Black woman trying to relocate her store to Main Street. Meanwhile, astronomer Maria Mitchell loves running Nantucket's Atheneum and spending her nights observing the stars, yet she fears revealing the secret wishes of her heart.

On a sweltering July night, a massive fire breaks out in town, quickly kindled by the densely packed wooden buildings. With everything they possess now threatened, these three very different women are forced to reevaluate their priorities and decide what to save, what to let go and what kind of life to rebuild from the ashes of the past.
Paperback, March 14th 2023