Vendor- Lemmon, Gayle Tzemach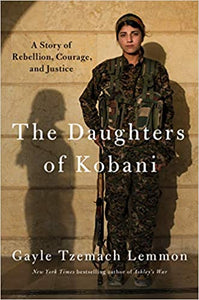 Daughter's of Kobani: A Story of Rebellion, Courage, and Justice
Lemmon, Gayle Tzemach
Regular price $27.00 Sale
In 2014, northeastern Syria might have been the last place you would expect to find a revolution centered on women's rights. But that year, an all-female militia faced off against ISIS in a little town few had ever heard of: Kobani. By then, the Islamic State had swept across vast swaths of the country, taking town after town and spreading terror as the civil war burned all around it. From that unlikely showdown in Kobani emerged a fighting force that would wage war against ISIS across northern Syria alongside the United States. In the process, these women would spread their own political vision, determined to make women's equality a reality by fighting—house by house, street by street, city by city—the men who bought and sold women.

Based on years of on-the-ground reporting, The Daughters of Kobani is the unforgettable story of the women of the Kurdish militia that improbably became part of the world's best hope for stopping ISIS in Syria. Drawing from hundreds of hours of interviews, bestselling author Gayle Tzemach Lemmon introduces us to the women fighting on the front lines, determined to not only extinguish the terror of ISIS but also prove that women could lead in war and must enjoy equal rights come the peace. In helping to cement the territorial defeat of ISIS, whose savagery toward women astounded the world, these women played a central role in neutralizing the threat the group posed worldwide. In the process they earned the respect—and significant military support—of U.S. Special Operations Forces.

Rigorously reported and powerfully told, The Daughters of Kobani shines a light on a group of women intent on not only defeating the Islamic State on the battlefield but also changing women's lives in their corner of the Middle East and beyond.
Hardcover 2/16/21