Vendor- Harel, Kay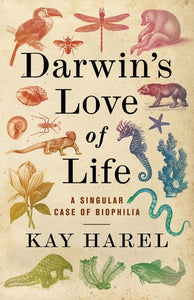 Darwin's Love of Life: A Singular Case of Biophilia
Harel, Kay
Regular price $26.00 Sale
Biophilia―the love of life―encompasses the drive to survive, a sense of kinship with all life-forms, and an instinct for beauty. In this unconventional book, Kay Harel uses biophilia as a lens to explore Charles Darwin's life and thought in deeply original ways. In a set of interrelated essays, she considers how the love of life enabled him to see otherwise unseen evolutionary truths.
Harel traces the influence of biophilia on Darwin's views of dogs, facts, thought, emotion, and beauty, informed by little-known material from his private notebooks. She argues that much of what Darwin described, envisioned, and felt was biophilia in action. Closing the book is a profile of Darwin's marriage to Emma Wedgwood, his first cousin, a woman gifted in music and medicine who shared her husband's love of life.
Harel's meditative, playful, and lyrical musings draw on the tools of varied disciplines―aesthetics, astronomy, biology, evolutionary theory, history of science, philosophy, psychiatry, and more―while remaining unbounded by any particular one. Taking unexpected paths to recast a figure we thought we knew, this book offers readers a different Darwin: a man full of love, joy, awe, humility, curiosity, and a zest for living.