Vendor- Zuk, Marlene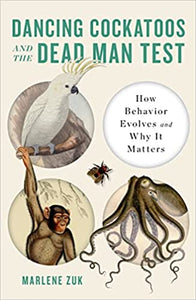 Dancing Cockatoos and the Dead Man Test: How Behavior Evolves and why it Matters
Zuk, Marlene
Regular price $28.95 Sale
For centuries, people have been returning to the same tired nature-versus-nurture debate, trying to determine what we learn and what we inherit. In Dancing Cockatoos and the Dead Man Test, biologist Marlene Zuk goes beyond the binary and instead focuses on interaction, or the way that genes and environment work together. Driving her investigation is a simple but essential question: How does behavior evolve?
Drawing from a wealth of research, including her own on insects, Zuk answers this question by turning to a wide range of animals and animal behavior. There are stories of cockatoos that dance to rock music, ants that heal their injured companions, dogs that exhibit signs of obsessive-compulsive disorder, and so much more.
For insights into animal intelligence, mating behavior, and an organism's ability to fight disease, she explores the behavior of smart spiders, silent crickets, and crafty crows. In each example, she clearly demonstrates how these traits were produced by the complex and diverse interactions of genes and the environment and urges us to consider how that same process evolves behavior in us humans.
Filled with delightful anecdotes and fresh insights, Dancing Cockatoos and the Dead Man Test helps us see both other animals and ourselves more clearly, demonstrating that animal behavior can be remarkably similar to human behavior, and wonderfully complicated in its own right.
Hardcover, Aug 9th 2022