Vendor- Flatiron Books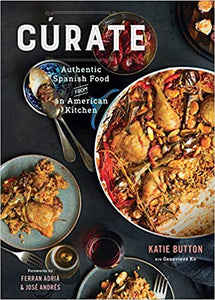 Curate: Authentic Spanish Food from an American Kitchen, by Katie Button
Flatiron Books
Regular price $35.00 Sale
Katie Button debuts her first cookbook ever as a peek inside the kitchen of her award-winning restaurant, Cúrate. This cookbook features 125 recipes celebrating the vibrant flavors and broad appeal of Spanish food. Button brings the cuisine at Cúrate into the kitchen of every home cook, showing readers how to re-create classic Spanish dishes and adapt them using American seasonal ingredients.
From cherished traditions (Tortilla Española; Chicken Paella) to mouthwatering new favorites (Ham and Cheese Stuffed Fried Pork Chops; Ribeye Steak with Blue Cheese Sauce) to celebratory drinks and desserts (The Perfect Gin and Tonic; Almond Cake with Cream Sherry and Brandy), Cúrate brings Spain to you.
"As a Spanish chef in America, I am so jealous of this book. Nobody embraces Spain in the heart of America with more poetry, passion, and perfection than Katie. She and her husband Félix are family to me, and I feel great joy seeing how she has grown as a person and as a chef." - José Andrés
"Cúrate is a prototype of how genuine tapas―the kind from Spain―might flourish throughout America. It's that accessible, and it's so appealing that the restaurant is packed day and night." - Alan Richman, GQ
"You haven't lived til you've eaten at Cúrate." - Huffington Post
"Buy this book for the soup and salad chapter alone. I'm serious. I fell hard for the Cúrate watermelon salad with goat cheese and gas station corn nuts. Ditto her mushroom soup with that Basque cheese I can't pronounce. This is honest restaurant cooking made accessible, something many chefs promise but few deliver." - John T Edge, co-author, Southern Foodways Alliance Community Cookbook
"With this book, Katie brings the true essence of Spanish cuisine to the American kitchen. Katie and Felix are the perfect example of how dedication, passion, talent, and a shared dream can lead to the greatest success." - Albert Adria
"I immediately fell in love with Katie's food at a culinary event in Miami years ago. Her cooking is honest, authentic, and incredible. This collection of recipes inspires me and is sure to inspire many home cooks - I can't wait to start cooking from it!" - Barbara Lynch
Katie Button is one of the new stars of the global food world―a finalist for James Beard's 2014 Rising Star Chef Award and for Food & Wine People's Choice Best New Chef. In 2008, she left a promising career as a neuroscientist to apply her creativity and precision in professional kitchens. She was the first American to wait tables at the Michelin 3-star restaurant El Bulli in Spain, and was later offered a coveted internship under the restaurant's acclaimed chef Ferran Adria. Now just thirty-two years old, she has two of her own restaurants: Cúrate, an award-winning Spanish tapas bar in Asheville, North Carolina; and Nightbell, a lounge with a Barcelona-meets-American-South feel.
October 11, 2016