Vendor- Masters, Nathan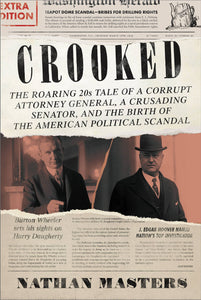 Crooked: The Roaring '20s Tale of a Corrupt Attorney General, a Crusading Senator, and the Birth of the American Political Scandal
Masters, Nathan
Regular price $30.00 Sale
Many tales from the Jazz Age reek of crime and corruption. But perhaps the era's greatest political fiasco—one that resulted in a nationwide scandal, a public reckoning at the Department of Justice, the rise of J. Edgar Hoover, and an Oscar-winning film—has long been lost to the annals of history. In Crooked, Nathan Masters restores this story of murderers, con artists, secret lovers, spies, bootleggers, and corrupt politicians to its full, page-turning glory.

Newly elected to the Senate on a promise to root out corruption, Burton "Boxcar Burt" Wheeler sets his sights on ousting Attorney General Harry Daugherty, puppet-master behind President Harding's unlikely rise to power. Daugherty is famous for doing whatever it takes to keep his boss in power, and his cozy relations with bootleggers and other scofflaws have long spawned rumors of impropriety. But when his constant companion and trusted fixer, Jess Smith, is found dead of a gunshot wound in the apartment the two men share, Daugherty is suddenly thrust into the spotlight, exposing the rot consuming the Harding administration to a shocked public.

Determined to uncover the truth in the ensuing investigation, Wheeler takes the prosecutorial reins and subpoenas a rogue's gallery of witnesses—convicted felons, shady detectives, disgraced officials—to expose the attorney general's treachery and solve the riddle of Jess Smith's suspicious death. With the muckraking senator hot on his trail, Daugherty turns to his greatest weapon, the nascent Federal Bureau of Investigation, whose eager second-in-command, J. Edgar Hoover, sees opportunity amidst the chaos.

Packed with political intrigue, salacious scandal, and no shortage of lessons for our modern era of political discord, Nathan Masters' thrilling historical narrative shows how this intricate web of inconceivable crookedness set the stage for the next century of American political scandals.
Hardcover, March 21st 2023