Vendor- Lorena Jones Books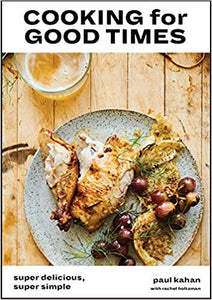 Cooking for Good Times: Super Delicious, Super Simple, by Paul Kahan
Lorena Jones Books
Regular price $35.00 Sale
Celebrated chef Paul Kahan's game plan and recipe repertoire of rustic, super-delicious, low-stress food to cook for gatherings.

NAMED ONE OF FALL'S BEST COOKBOOKS BY THE NEW YORK TIMES

Chicago chef Paul Kahan is legendary for cooking up amazing food at home while everyone--including him--is hanging out in the kitchen, talking, and having a great time. Cooking for Good Times shares Kahan's best secrets for low-stress cooking for friends and family, using his program of twelve basic actions to mix and match (such as "Roast Some Roots, "Make Some Grains," "Braise a Pork Shoulder," and "Make a Simple Dessert"). In every chapter, Kahan gives six to eight customizations for each core recipe for ways to make dishes seem new. Simple recommendations for wine and beer styles to pour remove the fuss over beverage options. With recipes ranging from Roasted Chicken with Smashed Potatoes and Green Sauce to Farro with Roasted Cauliflower and Oranges and Steak with Radicchio and Honey-Roasted Squash, plus more than 125 mouth-watering photographs, Kahan's playbook is guaranteed to make hosting more relaxing, fun, and delicious.
PAUL KAHAN is the executive chef of 12 distinctive and acclaimed Chicago restaurants and author of Cheers to the Publican, winner of a 2018 IACP cookbook award. He won the James Beard Foundation's Best Chef Midwest award in 2004 and Outstanding Chef award in 2013. 
October 15, 2019