Vendor- Llosa, Mario Vargas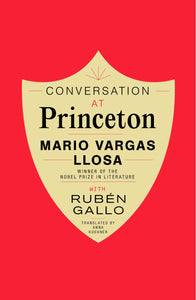 Conversation at Princeton
Llosa, Mario Vargas
Regular price $28.00 Sale
Princeton University, 2015. For one semester, Mario Vargas Llosa taught a course on literature and politics with Rubén Gallo. Over the course of several classes, the two writers spoke to students about the theory of the novel and the relationship between journalism, politics, and literature through five beloved books by the Nobel laureate: Conversation in the Cathedral, The Real Life of Alejandro Mayta, Who Killed Palomino Molero?, A Fish in the Water, and The Feast of the Goat.

Conversation at Princeton records these discussions and captures the three complementary perspectives that converged in the classroom: that of Vargas Llosa, who reveals the creative process behind his novels; that of Rubén Gallo, who analyzes the different meanings the works took on after their publication; and that of the students, whose reflections and questions give voice to millions of Vargas Llosa's readers.

During these talks, Vargas Llosa not only speaks with intelligence and lucidity about the craft of writing, but also offers an absorbing, inquisitive analysis of today's political and cultural landscape. Conversation at Princeton is a singular opportunity to attend a master class on literature and society, taught by one of our greatest writers and thinkers.