Vendor- Vintage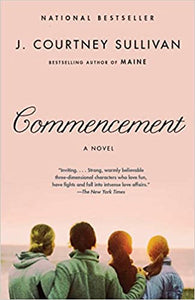 Commencement, by J. Courtney Sullivan
Vintage
Regular price $16.95 $9.98 Sale
The bestselling author of 
Maine
 brings us a sparkling tale of friendship and a fascinating portrait of the first generation of women who have all the opportunities in the world, but no clear idea about what to choose.
Assigned to the same dorm their first year at Smith College, Celia, Bree, Sally, and April couldn't have less in common. Celia, a lapsed Catholic, arrives with a bottle of vodka in her suitcase; beautiful Bree pines for the fiancé she left behind in Savannah; Sally, preppy and obsessively neat, is reeling from the loss of her mother; and April, a radical, redheaded feminist wearing a "Riot: Don't Diet" T-shirt, wants a room transfer immediately. Written with radiant style and a wicked sense of humor, 
Commencement
follows these unlikely friends through college and the years beyond, brilliantly capturing the complicated landscape facing young women today.