Vendor- Abrams, Jonathan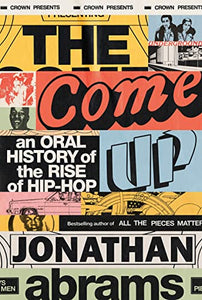 Come Up: An Oral History of the Rise of Hip-Hop
Abrams, Jonathan
Regular price $35.00 Sale
The music that would come to be known as hip-hop was born at a party in the Bronx in the summer of 1973. Now, fifty years later, it's the most popular music genre in America. Just as jazz did in the first half of the twentieth century, hip-hop and its groundbreaking DJs and artists—nearly all of them people of color from some of America's most overlooked communities—pushed the boundaries of music to new frontiers, while transfixing the country's youth and reshaping fashion, art, and even language.

And yet, the stories of many hip-hop pioneers and their individual contributions in the pre-Internet days of mixtapes and word of mouth are rarely heard—and some are at risk of being lost forever. Now, in The Come Up, the New York Times bestselling author Jonathan Abrams offers the most comprehensive account so far of hip-hop's rise, a multi-decade chronicle told in the voices of the people who made it happen. 
 
In more than three hundred interviews conducted over three years, Abrams has captured the stories of the DJs, executives, producers, and artists who both witnessed and themselves forged the history of hip-hop. Masterfully combining these voices into a seamless symphonic narrative, Abrams traces how the genre grew out of the resourcefulness of a neglected population in the South Bronx, and from there how it flowed into New York City's other boroughs, and beyond—from electrifying live gatherings, then on to radio and vinyl, below to the Mason-Dixon Line, west to Los Angeles through gangster rap and G-funk, and then across generations.
 
Abrams has on record Grandmaster Caz detailing hip-hop's infancy, Edward "Duke Bootee" Fletcher describing the origins of "The Message," DMC narrating his role in introducing hip-hop to the mainstream, Ice Cube recounting N.W.A's breakthrough and breakup, Kool Moe Dee recalling his Grammys boycott, and countless more key players. Throughout, Abrams conveys with singular vividness the drive, the stakes, and the relentless creativity that ignited one of the greatest revolutions in modern music.
 
The Come Up is an exhilarating behind-the-scenes account of how hip-hop came to rule the world—and an essential contribution to music history.
Hardcover, Oct 18th 2022