Vendor- Sandgren, Lydia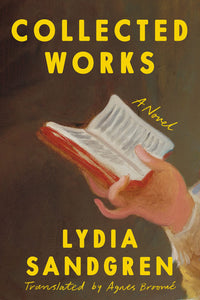 Collected Works
Sandgren, Lydia
Regular price $30.00 Sale
Martin Berg's wife, Cecilia, disappeared years ago. His memories of their carefree college days seem ever out of reach, and the intellectual curiosities that once made him the object of her desire have given way to midlife uncertainty. The methodical and quiet life he's made for himself and his adult children couldn't be further from the one he dreamed of in his youth, when the manuscripts lying around his apartment were flush with promise and his ailing publishing house was still new.

Perhaps nothing reminds Martin of these failures more than his friend Gustav Becker, a wildly successful painter who's returned to Gothenburg on the eve of his career-defining retrospective. Gustav, meanwhile, is hurting too. His obsession with Cecilia's inexplicable disappearance had made his art hagiographic, fixated on her image. When posters for Gustav's retrospective plaster Cecilia's face on major billboards across the city, Martin's daughter Rakel learns a haunting fact that points toward her mother's whereabouts. She and her brother chase this clue across time, memory, and Europe to discover why Cecilia abandoned her family, with the imagined hope that the question of what makes a person leave can ever be answered.

Collected Works, a major hit in Sweden, sold over 100,000 copies in its first year in print, instantly making Lydia Sandgren a literary sensation. Winner of the 2020 August Prize for Fiction, the novel is set to publish in 17 territories.
Hardcover, Jan 31st 2023