Vendor- Zambra, Alejandro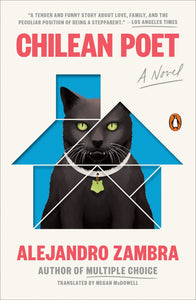 Chilean Poet
Zambra, Alejandro
Regular price $18.00 Sale
After a chance encounter at a Santiago nightclub, aspiring poet Gonzalo reunites with his first love, Carla. Though their desire for each other is still intact, much has changed: among other things, Carla now has a six-year-old son, Vicente. Soon the three form a happy sort-of family—a stepfamily, though no such word exists in their language.
 
Eventually, their ambitions pull the lovers in different directions—in Gonzalo's case, all the way to New York. Though Gonzalo takes his books when he goes, still, Vicente inherits his ex-stepfather's love of poetry. When, at eighteen, Vicente meets Pru, an American journalist literally and figuratively lost in Santiago, he encourages her to write about Chilean poets—not the famous, dead kind, your Nerudas or Mistrals or Bolaños, but rather the living, striving, everyday ones. Pru's research leads her into this eccentric community—another kind of family, dysfunctional but ultimately loving. Will it also lead Vicente and Gonzalo back to each other?
 
In Chilean Poet, Alejandro Zambra chronicles with enormous tenderness and insight the small moments—sexy, absurd, painful, sweet, profound—that make up our personal histories. Exploring how we choose our families and how we betray them, and what it means to be a man in relationships—a partner, father, stepfather, teacher, lover, writer, and friend—it is a bold and brilliant new work by one of the most important writers of our time.
paperback, Feb 14th 2023