Vendor- De Stefano, Cristina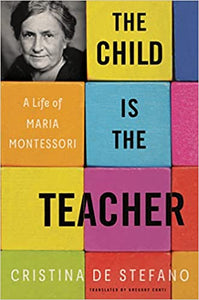 Child is the Teacher: A Life of Maria Montessori
De Stefano, Cristina
Regular price $28.99 Sale
Born in 1870 in Chiaravalle, Italy, Maria Montessori would grow up to embody almost every trait men of her era detested in the fairer sex. She was self-confident, strong-willed, and had a fiery temper at a time when women were supposed to be soft and pliable. She studied until she became a doctor at a time when female graduates in Italy provoked outright scandal. She never wanted to marry or have children—the accepted destiny for all women of her milieu in late nineteenth-century bourgeois Rome—and when she became pregnant by a colleague of hers, she gave up her son to continue pursuing her career.
        At around age thirty, Montessori was struck by the condition of children in the slums of Rome's San Lorenzo neighborhood, and realized what she wanted to do with her life: change the school, and therefore the world, through a new approach to the child's mind. In spite of the resistance she faced from all sides—scientists accused her of being too mystical, and the clergy of being too scientific, traditionalists of giving children too much freedom, and anarchists of giving them too much structure—she would garner acclaim and establish the influential Montessori method, which is now practiced throughout the world.
        A thorough, nuanced portrait of this often controversial woman, 
The Child Is the Teacher
 offers an unbiased perspective from an author who is not a member of the Montessori movement, but who has been granted access to original letters, diaries, notes, and texts written by Montessori herself, including an array of previously unpublished material.