Vendor- Phaidon Press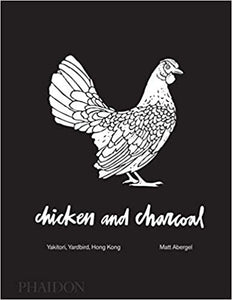 Chicken and Charcoal: Yakitori, Yardbird, Hong Kong, by Matt Abergel
Phaidon Press
Regular price $39.95 Sale
Winner of the 2019 James Beard Foundation Book Award.
The first cookbook from cult yakitori restaurant Yardbird in Hong Kong puts the spotlight on chicken - taking grilling to a whole new level
Chicken is the world's best loved meat, and yakitori is one of the simplest, healthiest ways to cook it. At Yardbird in Hong Kong, Canadian chef Matt Abergel has put yakitori on the global culinary map. Here, in vivid style, with strong visual references to Abergel's passion for skateboarding, he reveals the magic behind the restaurant's signature recipes, together with detailed explanations of how they source, butcher, skewer, and cook the birds with no need for special equipment. Fire up the grill, and enjoy. The first comprehensive book about yakitori to be published in English, this book will appeal to home cooks and professional chefs alike.
"Since it opened in 2011, there's no question that Yardbird has earned itself a cult following not just in Hong Kong, but around the world. It's not hard to see why. The vibe is good, the drinks are always flowing, the food is deliciously simple and always prepared with respect - for both the ingredients and for the art of yakitori, the time-honoured Japanese cooking technique in which chicken skewers are grilled over binchotan charcoal and enjoyed with an ice cold beer, sake or cocktail... Chicken and Charcoal, the first ever book about Yardbird (Hong Kong)[...] delves into the restaurant's journey from humble beginnings to the culinary phenomenon it is today. It includes everything from a step-by-step guide to Abergel's grilling techniques, recipes for their signature cocktails, as well as chapters that explain the art of sourcing and butchering... With high praise coming from all corners [...] the restaurant's influence is undeniable, and Chicken and Charcoal perfectly captures the soul of this buzzing Hong Kong hotspot."—AsiaTatler.com
"Matt Abergel, of Hong Kong restaurant Yardbird, has joined the ranks of chef-authors Ferran Adrià, René Redzepi, Andre Chiang and Magnus Nilsson with the publication of his first book of recipes by Phaidon. The company is one of the world's most prestigious high-end cookbook publishers, and being published by Phaidon is an accolade for any chef."—SCMP.com (South China Morning Post)
"Since opening in Hong Kong's Soho district in 2011, Yardbird's "beak-to-tail" approach to charcoal-grilled chicken and Japanese-inspired cocktails to match has earned it plaudits from the likes of Asia's 50 Best Restaurants as well as a reputation for lengthy customer waiting times... Chicken and Charcoal is [...] the first comprehensive book about yakitori to be published in English."—BK.Asia-City.com (Thailand)
Matt Abergel, an authority on yakitori chicken, is the head chef of Hong Kong-based restaurants Yardbird and Ronin. Having worked at Masayoshi Takayama's Masa in New York and at Hong Kong's Zuma, Abergel opened Yardbird in Hong Kong in 2011. He plans to open a yakitori restaurant in Los Angeles in 2019.
November 1, 2018