Vendor- Lorena Jones Books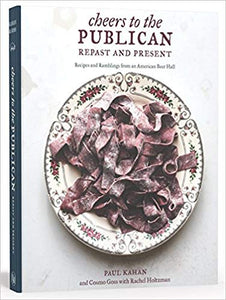 Cheers to the Publican, Repast and Present: Recipes and Ramblings from an American Beer Hall, by Paul Kahan
Lorena Jones Books
Regular price $40.00 Sale
The Publican, often named one of Chicago's most popular restaurants, conjures a colonial American beer hall with its massive communal tables, high-backed chairs, deep beer list, and Kahan's hallmark style of crave-worthy heartland cooking that transcends the expected and is eminently cookable. Cheers to The Publican is Paul Kahan's and Executive Chef Cosmo Goss's toast to the food they love to make and share, the characters who produce the ingredients that inspire them, and the other cooks they honor. Larded with rich story-telling and featuring more than 150 evocative photographs and 150 recipes for vegetables and salads, fish and seafood, meat, simple charcuterie, and breads and spreads, Cheers to The Publican is sure to be one of the most talked-about and cooked-from cookbooks of the year.
Winner of the 2018 International Association of Culinary Professionals (IACP) Cookbook Award for "Chefs & Restaurants" category

The narrative-rich cookbook by Chicago's superstar chef, Paul Kahan, whose destination restaurant, The Publican, is known for its incredibly delicious pork- and seafood-centric, beer-friendly cooking. 

PAUL KAHAN is executive chef and partner of The Publican and One Off Hospitality Group and has become the nationally recognized face of the Chicago food landscape. His businesses--Blackbird, Avec, The Publican (downtown and O'Hare locations), Publican Anker, Big Star, Publican Quality Meats, Nico Osteria, Dove's Luncheonette, and The Violet Hour--are consistently top-rated in Chicago and nationally. In addition to leading food media, Kahan has been covered in USA Today, the Wall Street Journal, Vogue, Travel + Leisure, The Atlantic, and the New Yorker, among others. Food & Wine named Kahan a Best New Chef and the James Beard Foundation has recognized him as Best Chef Midwest.
"Paul Kahan has a global perspective with a Midwestern sensibility and the uncanny ability to put not only flavors, but also life, in balance. 'Soulful' and 'authentic' describe both the man and what he brings to the table. He is truly an inspiration."
–Chris Bianco, chef/owner of Pizzeria Bianco and author of Bianco
 
"I have always wondered—perhaps somewhat jealously—why the food at The Publican in Chicago is so delicious. Then, one lovely April morning I sat down with my cappuccino and began to read Paul Kahan's first cookbook. I couldn't stop reading—and now I know how Paul packs so much flavor into his food. The effort he puts into sourcing and his balance of seasoning, marinating, cooking, and saucing is what turns his cooking into a concert of flavor. These recipes are so clearly written they will be easy to make at home. This is the most delicious book I've ever read."
—Nancy Silverton, co-owner of The Mozza Group and author of Mozza at Home
 
"Paul Kahan is a Midwestern culinary wizard. He's my type of chef—strong-willed, inquisitive, funny, and hungry—and I adore him for his stubborn 'Why not?' response to anything difficult. Cosmo Goss, is the perfect cohort for Paul. Together, they have created a new paradigm of American cooking, an amalgam of all the bounty the country has to offer, served lustily and with reverence. A terrific cookbook."
—Jonathan Waxman, chef/owner of Barbuto and author of Italian, My Way

COSMO GOSS trained at Gramercy Tavern and is The Publican's executive chef. In 2015, Goss was named to Forbes magazine's "30 Under 30" list.
September 19, 2017