Vendor- Rear, Rachel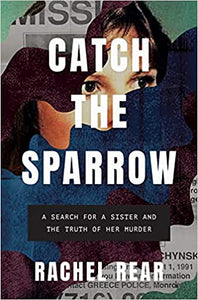 Catch the Sparrow: A Search for a Sister and the Truth of her Murder
Rear, Rachel
Regular price $27.00 Sale
Growing up, Rachel Rear knew the story of Stephanie Kupchynsky's disappearance. The beautiful violinist and teacher had fled an abusive relationship on Martha's Vineyard and made a new start for herself near Rochester, NY. She was at the height of her life-in a relationship with a man she hoped to marry and close to her students and her family. And then, one morning, she was gone.
Around Rochester-a region which has spawned such serial killers as Arthur Shawcross and the "Double Initial" killer-Stephanie's disappearance was just a familiar sort of news item. But Rachel had more reason than most to be haunted by this particular story of a missing woman: Rachel's mother had married Stephanie's father after the crime, and Rachel grew up in the shadow of her stepsister's legacy.
In 
Catch the Sparrow
, Rachel Rear writes a compulsively readable and unerringly poignant reconstruction of the case's dark and serpentine path across more than two decades. Obsessively cataloging the crime and its costs, drawing intimately closer to the details than any journalist could, she reveals how a dysfunctional justice system laid the groundwork for Stephanie's murder and stymied the investigation for more than twenty years, and what those hard years meant for the lives of Stephanie's family and loved ones. Startling, unputdownable, and deeply moving, 
Catch the Sparrow
 is a retelling of a crime like no other.