Vendor- Sterling, Michelle Min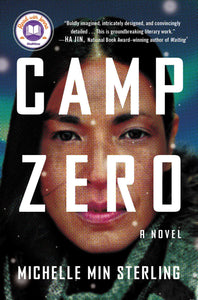 Camp Zero
Sterling, Michelle Min
Regular price $28.00 Sale

In a near-future northern settlement, the fates of a young woman, a professor, and a mysterious collective of researchers collide in this mesmerizing and transportive debut that "delivers its big ideas with suspense, endlessly surprising twists, and abundant heart" (Jessamine Chan, New York Times bestselling author).

In remote northern Canada, a team led by a visionary American architect is break­ing ground on a building project called Camp Zero, intended to be the beginning of a new way of life. A clever and determined young woman code-named Rose is offered a chance to join the Blooms, a group hired to entertain the men in camp—but her real mission is to secretly monitor the mercurial architect in charge. In return, she'll receive a home for her climate-displaced Korean immigrant mother and herself.

Rose quickly secures the trust of her target, only to discover that everyone has a hidden agenda, and nothing is as it seems. Through skill­fully braided perspectives, including those of a young professor longing to escape his wealthy family and an all-woman military research unit struggling for survival at a climate station, the fate of Camp Zero's inhabitants reaches a stunning crescendo.

Atmospheric, fiercely original, and utterly gripping, Camp Zero is an electrifying page-turner and a masterful exploration of who and what will survive in a warming world, and how falling in love and building community can be the most daring acts of all.
Hardcover, Apr 4th 2023