Vendor- Ekwuyasi, Francesca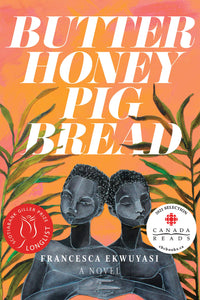 Butter Honey Pig Bread
Ekwuyasi, Francesca
Regular price $19.95 $19.95 Sale
Spanning three continents, Butter Honey Pig Bread tells the interconnected stories of three Nigerian women: Kambirinachi and her twin daughters, Kehinde and Taiye. Kambirinachi believes that she is an Ogbanje, or an Abiku, a non-human spirit that plagues a family with misfortune by being born and then dying in childhood to cause a human mother misery. She has made the unnatural choice of staying alive to love her human family but lives in fear of the consequences of her decision.

Kambirinachi and her two daughters become estranged from one another because of a trauma that Kehinde experiences in childhood, which leads her to move away and cut off all contact. She ultimately finds her path as an artist and seeks to raise a family of her own, despite her fear that she won't be a good mother. Meanwhile, Taiye is plagued by guilt for what her sister suffered and also runs away, attempting to fill the void of that lost relationship with casual flings with women. She eventually discovers a way out of her stifling loneliness through a passion for food and cooking.

But now, after more than a decade of living apart, Taiye and Kehinde have returned home to Lagos. It is here that the three women must face each other and address the wounds of the past if they are to reconcile and move forward.

For readers of African diasporic authors such as Teju Cole and Chimamanda Ngozi Adichie, Butter Honey Pig Bread is a story of choices and their consequences, of motherhood, of the malleable line between the spirit and the mind, of finding new homes and mending old ones, of voracious appetites, of queer love, of friendship, faith, and above all, family.
Released November 3, 2020