Vendor- Sartori, Giacomo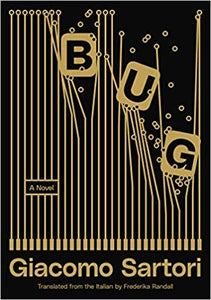 Bug
Sartori, Giacomo
Regular price $17.99 Sale
A timely, hilarious, and inventive novel by the author of I Am God about a family of misfit savants that explores (dis)ability, artificial intelligence, and the interdependence of technology and the natural world, narrated by the family's deaf youngest son.
Growing up deaf, the young narrator of Giacomo Sartori's novel Bug is hyper-attuned to the vibrations of the atoms in the air and the mental weather in those around him. He has a hard time focusing on what adults want him to, though, and sometimes bites people when agitated. Yet he's hardly the only unique one in his brood. His tech-genius older brother is called IQ in public and Robin Hood in the hackersphere, where he breaks into the systems of the pesticide corporation responsible for decimating his mother's bees. Their semi-estranged father is an engineer who profiles consumers for Nutella, which, our narrator knows, serves as a cover for his real job of pinpointing terrorists. Though divorced, he's moved back into the converted chicken coop where the family lives. They're visited by their grandfather, a retired anarchist now working on a magnum opus about worms. There's certainly enough going on in the family before their mother gets sideswiped by a semi truck and ends up comatose.
In his mother's silence, our narrator decides that if he can become better behaved, he'll make her emerald eyes snap back open. His speech therapist and confidante, Logo, takes his sign-language dictation as he relates the events of his days and his thoughts to his mom. He tells her about the artificial intelligence robot his brother is designing, of their battle with the neighbor (he of the pesticides), and the smart beehive they've built for her. And his new mysterious friend, Bug, who shows up on the computer one day and seems very familiar with the family. . . .
With the warm satirical humor and intelligence that made readers fall in love with his novel I Am God, Giacomo Sartori weaves a dense dysfunctional family story like no other, weighted with searching questions about how we deal with technology, the earth, and each other.
2/2/21