Vendor- Voloshyna, Anna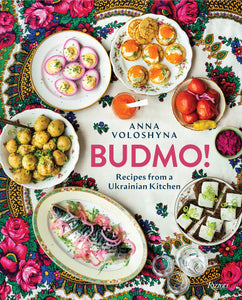 BUDMO!: Recipes from a Ukrainian Kitchen
Voloshyna, Anna
Regular price $39.95 Sale
Celebrate the rich culture of Ukrainian cuisine with these traditional Eastern European recipes infused with a fresh, contemporary approach for today's home kitchen, from one of today's most exciting young chefs of Ukrainian cuisine.

With its emphasis on fresh ingredients, time-honored heritage, and warm hospitality, Eastern European cuisine is having a culinary moment, in addition to Ukraine being of great current interest.
 
Meaning "cheers!" in Ukrainian, 
Budmo!
 is the first cookbook to celebrate classic Eastern European recipes with a modern, creative twist. Presented by Ukrainian-born, California-based chef, blogger, and culinary instructor Anna Voloshyna, bright flavors and vibrant ingredients sing from each plate. A gorgeous magenta 
pkhali

 
comes alive with roasted beets and a tangy pomegranate molasses. Borscht is reinvented with green sorrels and semi-soft eggs. And Voloshyna even shares a personal recipe for her Ukrainian grandmother's duck—roasted to a delicious crispy-brown perfection. These are the dishes that are perfect for gathering your favorite people with, and each one is bound to uncover the mouthwatering flavors and traditions of this endlessly fascinating part of the world.