Vendor- Doubleday Books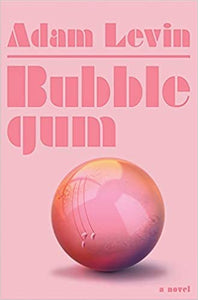 Bubblegum, by Adam Levin
Doubleday Books
Regular price $29.95 Sale
Bubblegum is set in an alternate present-day world in which the Internet does not exist, and has never existed. Rather, a wholly different species of interactive technology--a "flesh-and-bone robot" called the Curio--has dominated both the market and the cultural imagination since the late 1980s. Belt Magnet, who as a boy in greater Chicago became one of the lucky first adopters of a Curio, is now writing his memoir, and through it we follow a singular man out of sync with the harsh realities of a world he feels alien to, but must find a way to live in.
     At age thirty-eight, still living at home with his widowed father, Belt insulates himself from the awful and terrifying world outside by spending most of his time with books, his beloved Curio, and the voices in his head, which he isn't entirely sure are in his head. After Belt's father goes on a fishing excursion, a simple trip to the bank escalates into an epic saga that eventually forces Belt to confront the world he fears, as well as his estranged childhood friend Jonboat, the celebrity astronaut and billionaire.
     In Bubblegum, Adam Levin has crafted a profoundly hilarious, resonant, and monumental narrative about heartbreak, longing, art, and the search for belonging in an incompatible world. Bubblegum is a rare masterwork of provocative social (and self-) awareness and intimate emotional power.
Hardcover April 14, 2020