Vendor- Harding, Lisa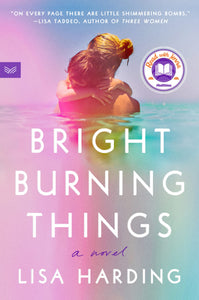 Bright Burning Things
Harding, Lisa
Regular price $17.99 Sale
A rising international literary star makes her American debut with this visceral, tender, and brave portrait of addiction, recovery, and motherhood, as harrowing and intense as Shuggie Bain.
Sonya used to perform on stage. She used to attend glamorous parties, date handsome men, ride in fast cars. But somewhere along the way, the stage lights Sonya lived for dimmed for good. In their absence, came darkness—blackouts, empty cupboards, hazy nights she can't remember.
What keeps Sonya from losing herself completely is Tommy, her son. But her immense love for Tommy is in fierce conflict with her immense love of the bottle. Addiction amplifies her fear of losing her child; every maternal misstep compels her to drink. Tommy's precious life is in her shaky hands. 
Eventually Sonya is forced to make a choice. Give up drinking or lose Tommy—forever.
Paperback, Dec 13th 2022