Vendor- Robertson, Chad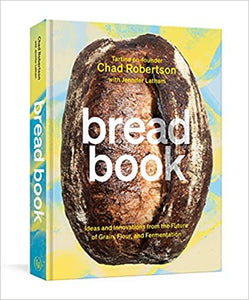 Bread Book: Ideas and Innovations from the Future of Grain, Flour, and Fermentation
Robertson, Chad
Regular price $40.00 Sale
More than a decade ago, Chad Robertson's country levain recipe taught a generation of bread bakers to replicate the creamy crumb, crackly crust, and unparalleled flavor of his world-famous Tartine bread. His was the recipe that launched hundreds of thousands of sourdough starters and attracted a stream of understudies to Tartine from across the globe.
Now, in 
Bread Book
, Robertson and Tartine's director of bread, Jennifer Latham, explain how high-quality, sustainable, locally sourced grain and flours respond to hydration and fermentation to make great bread even better. Experienced bakers and novices will find Robertson's and Latham's primers on grain, flour, sourdough starter, leaven, discard starter, and factoring dough formulas refreshingly easy to understand and use.
With sixteen brilliant formulas for naturally leavened doughs—including country bread (now reengineered), rustic baguettes, flatbreads, rolls, pizza, and vegan and gluten-free loaves, plus tortillas, crackers, and fermented pasta made with discarded sourdough starter—
Bread Book
 is the wild-yeast baker 's flight plan for a voyage into the future of exceptional bread.