Vendor- Montesanti, Gabe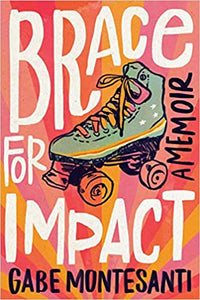 Brace for Impact
Montesanti, Gabe
Regular price $27.00 Sale
Growing up queer in a conservative Midwestern town, Gabe Montesanti never felt comfortable in her own skin. A competitive swimmer, she turned to perfectionism and self-control to create a sense of safety, only to develop an eating disorder and constantly second-guess her instincts. When she enters graduate school in St. Louis, she is determined to put the baggage of her childhood behind her. With no prior experience, she joins Arch Rival, one of the top-ranked roller derby leagues in the world. Gabe instantly falls in love with the sport's roughness, intensity, and open embrace of people who are literally and figuratively scarred. She soon finds community and a sense of belonging, reveling in the tattoos, glitter, and campiness. 

But when Gabe suffers a catastrophic injury, she can no longer ignore the parallels between the physicality of roller derby and the unresolved trauma of her upbringing. Rendered inactive, forced to be still, Gabe realizes she needs to heal her emotional wounds as much as her physical ones; she must confront her fear and self-diminishment in order to feel truly alive.

Told with unflinching honesty and a giant dose of wonder, Brace for Impact is a tender, inspiring memoir about the everyday heroism of pursuing a life less ordinary, and the deeply human need to be at peace with who you are.
Hardcover, May 24th 2022