Vendor- Corsair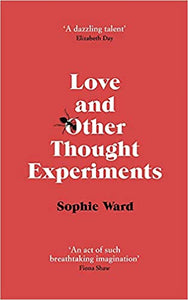 Love and Other Thought Experiments by Sophie Ward
Corsair
Regular price $25.99 Sale
Rachel and Eliza are hoping to have a baby. The couple spend many happy evenings together planning for the future.
One night Rachel wakes up screaming and tells Eliza that an ant has crawled into her eye and is stuck there. She knows it sounds mad - but she also knows it's true. As a scientist, Eliza won't take Rachel's fear seriously and they have a bitter fight. Suddenly their entire relationship is called into question.
Told in ten interconnecting but self-contained chapters - each from a different character's perspective - and inspired by some of the best-known thought experiments in philosophy, particularly philosophy of mind, Love and Other Thought Experiments is a story of love lost and found across the universe.
International Booker Prize Longlist 2020
Hardcover – February 6, 2020

* extra shipping time may be needed for this title