Vendor- Ohman, Jules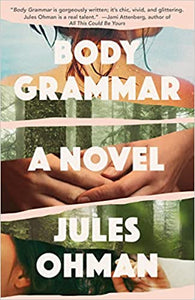 Body Grammar
Ohman, Jules
Regular price $17.00 Sale
By the time Lou turns eighteen, modeling agents across Portland have scouted her for her striking androgynous look. Lou has no interest in fashion or being in the spotlight. She prefers to take photographs, especially of Ivy, her close friend and secret crush.
 
But when a hike ends in a tragic accident, Lou finds herself lost and ridden with guilt. Determined to find a purpose, Lou moves to New York and steps into the dizzying world of international fashion shows, haute couture, and editorial shoots. It's a whirlwind of learning how to walk and how to command a body she's never felt at ease in. But in the limelight, Lou begins to fear that she's losing her identity—as an individual, as an artist, and as a person still in love with the girl she left behind. 
 
A sharply observed and intimate story of grief and healing, doubt and self-acceptance set against the hyper-image-conscious industry of modeling and high fashion, Body Grammar shines with the anxieties of finding your place in the world and the heartbreaking beauty of pursuing love. 

Paperback, June 14th 2022