Vendor- Sides, John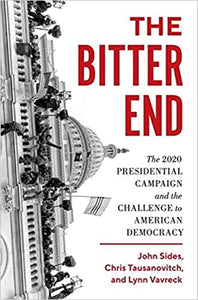 Bitter End: The 2020 Presidential Campaign and the Challenge to American Democracy
Sides, John
Regular price $29.95 Sale
The year 2020 was a tumultuous time in American politics. It brought a global pandemic, protests for racial justice, and a razor-thin presidential election outcome. It culminated in an attack on the U.S. Capitol that attempted to deny Joe Biden's victory. 
The Bitter End
 explores the long-term trends and short-term shocks that shaped this dramatic year and what these changes could mean for the future.

John Sides, Chris Tausanovitch, and Lynn Vavreck demonstrate that Trump's presidency intensified the partisan politics of the previous decades and the identity politics of the 2016 election. Presidential elections have become calcified, with less chance of big swings in either party's favor. Republicans remained loyal to Trump and kept the election close, despite Trump's many scandals, a recession, and the pandemic. But in a narrowly divided electorate even small changes can have big consequences. The pandemic was a case in point: when Trump pushed to reopen the country even as infections mounted, support for Biden increased. The authors explain that, paradoxically, even as Biden's win came at a time of heightened party loyalty, there remained room for shifts that shaped the election's outcome. Ultimately, the events of 2020 showed that instead of the country coming together to face national challenges―the pandemic, George Floyd's murder, and the Capitol riot―these challenges only reinforced divisions.

Expertly chronicling the tensions of an election that came to an explosive finish, 
The Bitter End
 presents a detailed account of a year of crises and the dangerous direction in which the country is headed.