Vendor- Wilson, E.O.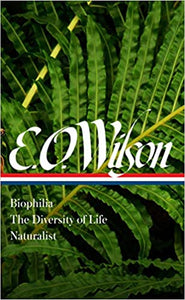 Biophilia: The Diversity of Life Naturalist
Wilson, E.O.
Regular price $45.00 Sale
Library of America presents three environmental classics from two-time Pulitzer Prize-winner E. O. Wilson, a masterful writer-scientist whose graceful prose is equal to his groundbreaking discoveries. These books illuminate the evolution and complex beauty of our imperiled ecosystems and the flora, fauna, and civilization they sustain, even as they reveal the personal evolution of one of the greatest scientific minds of our age. Here are the lyrical, thought-provoking essays of Biophilia, a field biologist's reflections on the manifold meanings of wilderness. Here too is his magisterial, dazzlingly informative Diversity of Life: a sweeping tour of global biodiversity and a prophetic call to preserve the planet, filled on every page with little-known creatures, unique habitats, and fascinating ecological detail. Also included is Wilson's moving autobiography, Naturalist. Following him from his outdoor boyhood in Alabama and the Florida panhandle to the rainforests of Surinam and New Guinea--from his first discoveries as a young ant specialist to his emergence as a champion of conservation and rewilding--it rounds out a collection that will inspire wonder, curiosity, and love for a natural world now rapidly disappearing. Thirty-two pages of photographs and numerous illustrations accompany these works, which are introduced by David Quammen, one of America's leading science and nature writers.
Hardcover 3/23/21