Vendor- Ducharme, Jamie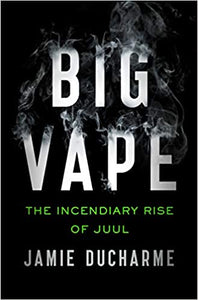 Big Vape: The Incendiary Rise of Juul
Ducharme, Jamie
Regular price $29.99 Sale
It began with a smoke break. James Monsees and Adam Bowen were two ambitious graduate students at Stanford, and in between puffs after class they dreamed of a way to quit smoking. Their solution became the Juul, a sleek, modern device that could vaporize nicotine into a conveniently potent dosage. The company they built around that device, Juul Labs, would go on to become a $38 billion dollar company and draw blame for addicting a whole new generation of underage tobacco users.

Time magazine reporter Jamie Ducharme follows Monsees and Bowen as they create Juul and, in the process, go from public health visionaries and Silicon Valley wunderkinds to two of the most controversial businessmen in the country.

With rigorous reporting and clear-eyed prose that reads like a nonfiction thriller, Big Vape uses the dramatic rise of Juul to tell a larger story of big business, Big Tobacco, and the high cost of a product that was too good to be true.
Hardcover May 25, 2021